BELLEVIEW | During the sweltering heat of summer, more than 300 residents of Belleview, Fla. were showered with random acts of kindness from parishioners of St. Theresa Parish. From July 19-21, about 40 members of the parish engaged in a series of volunteer opportunities called, "Blanketing Belleview with Blessings."
"It was a wonderful opportunity, and people were so thrilled and receptive to us," said Eileen Ritter, a long-time parishioner of the church who served on the event's planning committee. "We're a great parish with amazing volunteers; we have a lot of people who want to make our community even better."
"As a pastor, I feel very proud to see our church's self-giving and willingness to serve," said Pastor Father Tom Connery. "As disciples, we have to go out into our communities and many times we don't know what to do. Blanketing Belleview with Blessings gives us an opportunity to do just that."
Prior to becoming pastor of St. Theresa's three years ago, Father Connery served St. Peter Parish in Deland, Fla. St. Peter's collaborated with other churches of different denominations to host a day of service in the community and continued the event for several years. Father Connery wished to bring this similar event to St. Theresa's, and thus, Blanketing Belleview with Blessings was born.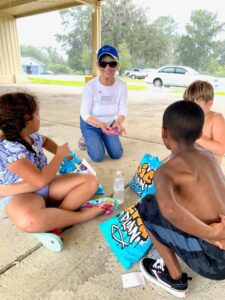 A team of St. Theresa parishioners came together over the course of four weeks to plan the activities and brainstorm ways to serve the nearly 5,000 citizens of Belleview. The volunteers hope to continue this activity each year, with potentially smaller versions throughout the year. Next year, they hope to add service components for nursing home residents in the area post-Covid-19.
Each morning began with Mass and breakfast for the volunteers as a way to build community before going out into the public. Service activities included letter-writing to the homebound, landscaping Belleview Elementary School, serving milkshakes and floats at the parish soup kitchen, baking cookies for police officers and firefighters, delivering water bottles to Lake Lillian visitors, grilling hotdogs and giving out treats at a local water park and sports complex, and providing complimentary movie tickets for families to watch Space Jam: A New Legacy.
Volunteers took care to provide acts of service without overwhelming recipients. Cards with St. Theresa's Mass times were passed out as a "ticket" to see the movie. On the back of the handout included a simple, yet meaningful and memorable, phrase: "I can't. God can. Let Him." Events culminated at the church on July 21 with a praise and worship session and pizza party.
"Hopefully others will get some ideas from this and help grow the [Catholic] faith!" Ritter said.
While a thrift store, food pantry, soup kitchen and social services are already affiliated with the parish, Father Connery, and his parishioners desired to be more visible in the community. The soup kitchen alone serves more than 68,000 annually, and never closed during the Covid-19 pandemic.
"We can all make a great impact; we're not just here for ourselves," Father Connery said. "If you're looking to do something similar with your parish – just do it! You should know your community, what they need. Whatever you do is better than nothing."
By Dana Szigeti, Special to the Florida Catholic,  July 28, 2021