CLERMONT | It's been 16 long years for parishioners of St. Faustina Parish in Clermont. From bake sales to the purchase of tamales and empanadas, they raised enough money to break ground on a parish building, Jan. 9. Bishop John Noonan was on hand to bless the sacred earth that will serve as foundation of their new sanctuary—a far cry from the retail space on the corner of a strip mall.
The new multi-purpose building will be 9,500 sf, comprising a sacristy, large worship space sanctuary, narthex, parish offices, conference room, reception area and warming kitchen. Estimated completion is December 2022.
Although Father Ramón Bolatete, pastor, was out of town due to a funeral, he shared via email, "This is indeed a dream come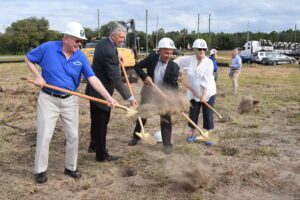 true for the parish of St. Faustina, especially for the pioneering group of dedicated parishioners. Some may have passed on, but the remaining ones have stayed faithful and strong in their stewardship of giving and sustaining the church project."
Don Villeneuve noted, "I felt like I broke ground 16 years ago when I made that sign up and put it in the ground. We were all excited we were going to get a church in this area." He remembered his late friends, Frank Rotzel and Alan who helped in that day. Don's wife, Trish added, "Just to see the shovel go into the ground today is a blessing." She echoed the sentiments of many.
Kathy Murphy and her husband Bill were the 19th parishioners to enroll in the parish. They worked with Father Stephen Phillips for almost three months prior to the first Mass in the Westgate Inn on Route 1-92, procuring what was needed and spreading news of the church coming to the Four Corners area. "We started with nothing—a card table, two little candles and a tiny crucifix," she recalled.
Later they moved to Homer's, a former BBQ restaurant. Murphy laughed remembering how Father Phillips used to refer to it as "Church of the Holy Smokes". They would also call it St. Homer's. The space had no air conditioning, no heat or hot water. "It was the people, the effort of the volunteers that came," she said. "They loved our little humble church and they stayed. If we could survive Homer's, and we did, we knew we were resilient. Like St. Faustina, we were faithful, dedicated and determined to have our church on our own property."
Eventually they moved to Glenbrook Commons Plaza, a shopping center. At the groundbreaking, Murphy thanked Bishop Noonan for "a promise kept".
Today, the parish still has many volunteers. Murphy says, "They are the backbone of the parish." Sadly, her husband Bill passed in April and Father Phillips died two years after the parish began. She thoughtfully packed some dirt from the property as a keepsake of all this land represents to those who are gone, those who remain and are yet to come.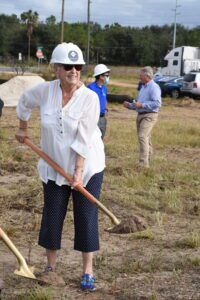 In his email, Father Bolatete noted the "newer members who are equally enthused about gathering in our own worship space where the community can have more opportunities to carry on the mission and outreach of the parish to the whole world!"
The new church property is at the corner of Boggy Marsh Road and County Hwy. 27 in Clermont. Plunkett Raysich Architects, LLP took inspiration for the design from a church in Poland, the homeland of St. Faustina.
The space will also contain a Divine Mercy Chapel with confessional and two classrooms. There will be movable partitions that can be used to create four additional classrooms during the week.
According to Associate Director of Design and Construction Services, Anthony diPaola, the building itself is a pre-engineered metal building with masonry and stucco exterior and allows for seating up to 430 people.
By Glenda Meekins of the Florida Catholic Staff, January 13, 2022