ORLANDO | High school students from 16 parishes throughout the Diocese of Orlando and around the state clamored into Rosen Shingle Creek Resort in Orlando, July 16-18 to experience a transformative encounter with Christ. The theme "Restored" at the Steubenville Florida Youth Conference focused on each person's identity as a child of God.
From praise and worship to Eucharistic Adoration, prayer and fellowship, youth heard from national speakers, including Jason Evert, Mari Pablo, and singer Andrew Laubacher or ALOB. Father Jonathan McElhone, TOR served as emcee alongside Dan Harms. Attendees also heard from Bishop John Noonan and had the opportunity to speak with clergy, religious and seminarians. First-timer Amelie, 13, of St. Mary Parish, Rockledge, loved meeting "amazing people" and having "amazing conversations". She said, "I feel like I've been truly touched by Jesus while I was here." She said her experience in the Sacrament of Penance, talking with the priest, made her "feel lighter, knowing I can be better because Jesus loves me."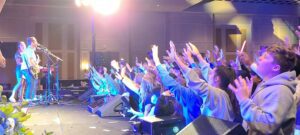 By far, the most significant event for Diocese of Orlando youth was Eucharistic Adoration. Amelie S. noted, "I felt I was really connecting with Christ where I haven't really before. For me, in my everyday life, I pray and I go to church… I just go through the motions. I was so concentrated on Christ (during Adoration), it was just mind-blowing. I got to speak to Him one-on-one and I feel so much better about who I am." As the priest processed the monstrance throughout the crowd, Christ came near her. She prayed, "Help me love myself again so I can love others and I can be stronger for them." The experience gave her a renewed sense of self.
For 16-year-old Kaitlyn H., also of St. Mary Parish, the procession reminded her of the Stations of the Cross because "it's all circling back to Jesus. No matter where you are or where you go, no matter what is happening Jesus is always going to be there… He's going to show Himself to you."
And show Himself He did. Jonah M. is 15 and a parishioner at St. Anthony Parish in Lakeland. It was his first Steubenville experience and he felt the Holy Spirit's presence. "My favorite part has been the environment. I enjoy being around the nuns and priests, everybody here. They're not judging…" He added, "I've learned to trust God more. And He's calling me toward something. I definitely feel a pull toward the seminary."
St. Anthony youth, Sebastian M., age 16, said the music during Adoration brought him peace. "I learned you've got to be vulnerable sometimes. You've got to seek God and listen to Him. If you're just talking, He can't talk to you." He is determined to pray more on his own. He never prayed the rosary before, but the first night, he felt a desire to pray it rather than pick up his phone. "I'm seeing it's more important to pray."
Veteran Steubenville attendee and youth minister Ryan Craig of St. Anthony Parish said he saw Adoration as the "biggest impact" on the youth from his parish. "Quiet time with the Lord is what they seek out the most. They love the singing, dancing and having fun, but at the core of it, in Adoration it's just them and Jesus. They can bring up some things they've been holding on to." It was a reminder to him to rededicate himself to "quiet time with God".
Core team member for Holy Family Parish in Orlando, Ellona Delac said, "This weekend was a good reminder and restoration of the Catholic Church. With COVID-19 a lot of people had to step away… so this really gave me hope that the Lord is on the move to be able to restorer the Church and everything is going in that direction, even though it's hard." She noted the temptation to despair, but the event brought her consolation, refueled her ministry, and reminded her of the reality of a life in Christ. Her parting thoughts were, "Lord, you are alive and well and I want these kids to know how much you love them." She added, "This is just the beginning… This event is planting seeds."
By Glenda Meekins of the Florida Catholic, July 22, 2021