DAYTONA BEACH | Knights of Columbus councils and assemblies joined forces April 9 to hold the Terry Cassidy Memorial Coastal Laps for Life at Father Lopez Catholic High School. Almost 200 people, including 55 knights made it the most successful turnout in six years since the event's inception.
With funds still coming in, Coastal Laps already raised more than $55,000. The Knights will use the funds to purchase and maintain three, possibly four, ultrasound machines for faith-based women's health and pregnancy centers throughout the region. The past five events enabled the Knights to use matching grants from the Knights of Columbus Supreme Council to purchase seven units.
"Of the many programs that the Knights support, we consider this initiative to be our most important – because it saves lives," said Roger Packard, Grand Knight of Our Lady of Hope Council 8086 of Port Orange, the core council for the event. "We would like to thank everyone involved – walkers, runners and especially contributors."
New for 2022 was the running of a 5K race on a new 3.1-mile course around the Father Lopez campus sanctioned by U. S. Road Running. Derek Redel was the winner, in 21:58, 22 seconds ahead of Michael Coleman. Stacy Ferner led the women, finishing fifth overall in 25:41.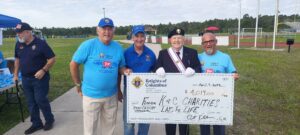 Joining Council 8086 were Father Downey Council 4934 of Sacred Heart Parish in New Smyrna Beach, represented by Bill Kelley; Notre Dame Council 10514 of Flagler Beach, represented by Grand Knight and event co-chairman Paul Gloeckler; Church of the Epiphany Council 12569 of Port Orange with Grand Knight Jim Gallagher; Prince of Peace Council 8791 with Grand Knight Bill Whelen; and St. Paul Council 1895 of Daytona Beach. Council 8086 Past Grand Knight Jim Waggoner was event co-chairman.
Coastal Laps for Life was held in honor of former District 20 Deputy Terry Cassidy, the former event chairman who passed away last September. He was represented by his wife Barbara. Their daughter Erin, a freshman at Father Lopez, sang the National Anthem.
Staff Report, April 14, 2022