APOPKA | It may seem like a scene from My Big, Fat Greek Wedding, but it's not a movie. It's a real big, Catholic wedding. Blended traditions and dozens of volunteers made dreams come true for 11 couples receiving the Sacrament of Marriage in the Catholic Church.
When Society of Divine Vocations Father Mathew Vettath arrived at St. Francis of Assisi Parish in Apopka, he noticed many couples in the Spanish community did not come forth to receive the Holy Eucharist. He soon learned they never received the Sacrament of Marriage, so they respectfully remained seated, Sunday after Sunday.
The parochial administrator set out to offer "Una Boda Comunitaria" (a Community Wedding) for couples wishing to convalidate their marriage and for those not yet civilly married, Nov. 5, 2022. "There are several reasons why couples are not married, but the most common one is the cost of the celebration," Father Vettath, S.D.V. said. "Celebrating the Sacrament with a big fiesta is something rooted in the Spanish tradition."
He noted the community wedding program "has the purpose of strengthening family ties, offers the opportunity to save on expenses and receive the Sacrament of Matrimony."
As staff began to plan, many parishioners offered help, organizing a party afterward for all the couples' family and friends. From beautifully set tables and chairs adorned with gold sashes to the decorated aisle, large wedding cake and photo spot, the community embraced the couples' desire to formalize their commitment to one another before God.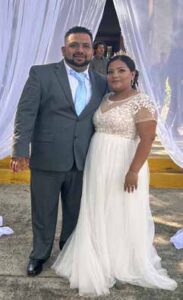 One of those couples was Lisyenia and Israel Dominguez. Lisyenia was 19 years old, with a child on the way, when her grandfather requested asylum for her family from Nicaragua. The situation forced her to leave her partner behind. Two years later, on her 21st birthday, she met her husband, Israel Dominguez. The couple eventually married in a modest civil ceremony and had two children of their own.
"I always wanted to get married (in the Church), but sometimes the families would say, 'It's not necessary,'" Lisyenia said. She recalled Israel agreeing, "You are my wife, and I will always love you. We don't need a paper."
Lisyenia's maternal grandmother was a devout woman, instilling in her granddaughter the love of God. Israel's experience with Catholicism was limited. "I called myself Catholic without being Catholic," he said. "In my town, we get baptized, but go no further."
When Lisyenia and Israel placed their son in faith formation, he became very curious. "I didn't know how to answer him," Israel recalled. So, when he was offered participation in the Rite of Catholic Initiation of Adults, he enrolled. "I felt God was asking me to learn about this faith," Israel said.
With a demanding job, he questioned how to make it happen. Within 24 hours a friend called and offered him a job closer to home with regular hours. "I could see God wanted me to go (to RCIA)," he said.
Their new covenant invigorated their spiritual lives, as a family and individually.
"God works in each of the things we need," said Lisyenia. "All that has transpired since, in my family, has been miraculous. He took us by the hand. I offered my marriage to God and followed through. He honored that. We continue to learn and grow."
They most enjoy participating in the celebration of Mass together. "Sometimes, it's as if the priest is speaking directly to us," Israel said.
Lisyenia chimed in. "Now we have a defined commitment that we like and want to fulfill to glorify God. We don't want to fail Him in that way. We learned to give God the place He deserves."
Also celebrating the Sacrament Nov. 5, were Emelyn and Juan Valdez. The Dominican couple comes from devout Catholic parents. They married civilly in 2000 after discovering a Catholic wedding required months of preparation. They were eager to get married and neither wanted a large wedding. With both Catholic families hoping for a big celebration, they knew it would be difficult to keep it small.
"We value the Sacrament, but such a large event seemed like an indulgence," Juan said. "We didn't want to do anything extravagant. We wanted to do a simple wedding because we wanted to make sure we didn't invest in the wedding—we invested in our future, so we bought a house instead."
In 2012, after moving to Florida, they made another attempt, but the timing was off.
Then, Juan's uncle became seriously ill. On his deathbed, he told the couple he wished for them to get married in the Church. Two weeks later, Father Vettath made the "Community Wedding" invitation during Mass. They looked at each other and laughed. They knew it was time.
"We're very humble and simple in many ways, so it just felt right when the Church invited us to have a community wedding," Emelyn noted. "It wouldn't just be the two of us. It would be a nice experience to share with other people."
Although the classes and Pre-Cana retreat took nearly six months, the couple was pleasantly surprised by the experience. "Everyone was so excited and real. It felt very welcoming and inclusive," said Emelyn. It was the fellowship she was seeking.
"I thought it was a great preparation to get a clear picture of what you're walking into," Juan said. "And not just marriage as a Sacrament and an institution, but also understanding your partner."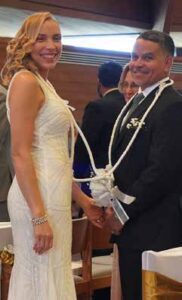 Emelyn found it to be a "refresher" filled with good conversation starters for young couples. The two learned some new things about family and financial planning, and communication too.
"Hearing the priest speak of our responsibility of being of service in our marriage – to help our spouse to sainthood," made Emelyn view their relationship in a new light. "Sometimes I find myself wondering how I can do that today. Sometimes it's in humor; other times it's thinking about Juan in a different way," she said.
Touched by the many parishioners who came forth to make the day special has bonded the couple to their community. They appreciated sharing customs with couples from different countries. "It solidified the understanding that we are community, and we all have to play a part in it," said Emelyn. "From the moment we decided to get married (civilly), I always felt God was at the center. Receiving the Sacrament itself was a way of formalizing it in our community."
But most significant was receiving the Holy Eucharist. Emelyn tried to explain, but tears cut her answer short, so Juan stepped in. "It was the culmination of everything we've gone through," he said. "It felt like now we are really a part of the Church."
When asked what made her cry, Emelyn noted, "(Eucharist) was something I wanted to participate in for such a long time. It was a beautiful gift to receive. It was a long time coming and made me think about how sometimes we make things more difficult than they have to be. It was a realization—receiving the Body of Christ, together, after so many years."
By Glenda Meekins of the Florida Catholic staff, January 05, 2023