DAYTONA BEACH | Many people might start dreaming of retirement in their early 60s, not Catholic running coach, Sue O'Malley. She's been helping young runners at Father Lopez High School sprint toward their dreams for nearly 20 years now… and she's not giving up any time soon.
When asked how it all began, O'Malley remembers choosing sports over dolls. As a child she loved the outdoors and the freedom she felt when running. She viewed it as a God-given grace. Today, with more than 100,000 miles under her belt, she still gives Him the glory.
"My parents really pushed me saying 'these gifts were given to you by God,'" she shared. "That philosophy carried over to a point where I was elite."
As she ran to the head of the pack, her faith taught her to give back. In her prime, O'Malley would volunteer at races and coach her friends. That selflessness would bear great fruit. She won the U.S. Marine Corps Marathon and qualified for the 1984 Olympic trials. While O'Malley did not make the team, she did land the cover of a Wheaties cereal box. When she learned of a contest to carry the Olympic torch through parts of the U.S. before the 2002 games in Salt Lake City, she entered, won and shared the moment with her husband and young daughter.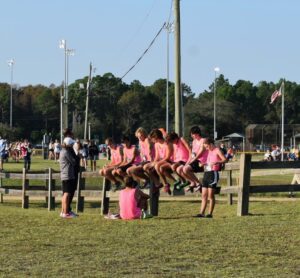 A bad reaction to a flu shot forced O'Malley to slow down in 2015. For years she logged up to 15 miles per day, but aches and pains whittled that down to just one mile on the rough days. Yet, she counted her blessings and began coaching the boys' cross-country team at Father Lopez who she says, "really had the same passion I had for running." That year, the young men won a state title putting O'Malley on the map as a top-tier coach in Florida. The team offered that whole season up for her, she believes, "because they realized I never gave up."
She tells her runners, "I am your earthly coach, but your ultimate coach is Jesus Christ and He's my coach too!"
O'Malley believes spending time with the Lord is the key to living joyfully. "I get up at 4:30 a.m. and that is my time in the dark and peacefulness, the cloudiness, the moon, the stars. I use that as my prayer time," she said. She starts the day with gratitude and asks the Holy Spirit to accompany her in all she does. "I offer my successes and failures. When I do fail, I ask Him to pick me up."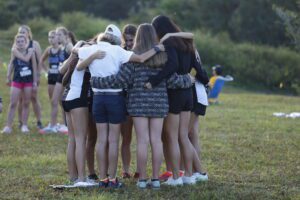 Senior cross country and track student, Victoria, noted a lesson learned from 'Coach O'—"your team is your family. Everything you do is with and for them."
Mary, another senior athlete agreed. "I learned that running is really about being part of a team and lifting one another up when you may feel unmotivated or tired," she said. "A good team requires individuals who are willing to work hard not just for themselves, but for others to succeed as a whole."
Other students have shared their gratitude. Among them is William, a senior cross country and baseball athlete. His note, which is taped to O'Malley's desk, shares his difficulty in fitting in. He wrote, "…you always sought to lift me up and keep me going. You motivated me through practices, through my education, and, overall, made my quality of life better."
Like her mother and grandmother who were both educators before her, she is a teacher first. She subbed at Father Lopez for years when she scaled back to be at home when her daughter was young. Last year she began teaching Theology full-time and loves it.
O'Malley makes a difference because she cares. She wants her students to do the same. By teaching the tenets of Catholic Social Teaching, she helps them reach out to those in need, combat homelessness, fight for "God's little ones", and more. Her fervor led one student to run a schoolwide charitable collection for the homeless over Catholic Schools Week.
"So many don't understand they can make a difference in homelessness, human trafficking," she shared. "They don't understand this is the life they're living in right now and it is all around them."
She often remembers the time she spent learning from religious sisters at Sacred Heart Parish in New Smyrna Beach in her early 40s. The self-proclaimed rebel vowed not to get involved, but soon found the sisters speaking to her heart about working with migrant children.
"I have to say the Sisters of Notre Dame played a profound effect on changing and understanding what my faith was about," she said. "I was no longer going through the motions. It was living out Catholicism in the way Jesus really wanted me to live it out."
When she's not on the track or in the classroom, O'Malley also steps up in church. She's a lector and Extraordinary Minister of Holy Communion at Our Lady of Hope Parish in Port Orange. She cherishes the closeness to the Lord's True Presence and sharing that with the community of believers.
She reflected, "To hold the host up and look into someone else's eyes and see how powerful that really is… to bring a smile, to really realize that I am made in the image of God and so is that individual person… it's humbling for me that Jesus would call me to that."
Her former pastor, Father Chris Hoffmann remembers O'Malley fondly. "Sue is a generous, kind individual that presents Christ to others in many ways. Her care and guidance of youth help them discern where Christ is leading them." Noting her activity in the parish and Father Lopez, he added, "She is well deserving of any accolades, but I am sure she would just want to give God the honor and glory for all that she does."
What's next for the woman who walks with the Lord and ran her 1,000th race just two years ago?
"I love what I do and God still wants me to coach and possibly win another state title," she said. "I think it is really cool how God is so great and can be so good to us even when we fail. But we never give up on Him."
By Glenda Meekins of the Florida Catholic Staff, February 16, 2022