VIERA | St. John the Evangelist Parish received two blessings in one day. Bishop John Noonan blessed the parish's new porticos and blessed and broke ground at the location of the future Marian grotto on Nov. 6. The two were made possible by a fundraising campaign that began one year ago.
"There was a feeling of completeness when our beloved bishop blessed the completed works of phase 1 of our campaign," said pastor and Congregation of the Holy Cross Father John Britto. "We are extremely grateful to God for His blessings and the generous parishioners for their continued support."
The pastor pointed to Notre Dame (du Lac) University as an example of his order's devotion to Our Lady. "The powerhouse of that beautiful campus is the grotto dedicated to Our Lady of Lourdes," he said.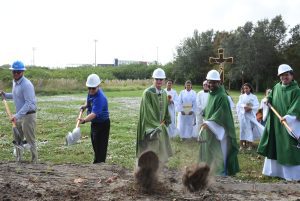 Although the new grotto will not mirror the overwhelming impact of that of Notre Dame's, Father Britto wants to share the great love his parishioners have for "Our Lady, Our Mother".  The project includes light and sound effects and beautiful landscaping.
"We planned to have the grotto right in our campus along with the Stations of the Cross for people to experience the peaceful and loving presence of our Mother, leading us to Jesus Christ, her Son and our Lord and Savior," he explained. He desires "to create an oasis of prayer and a sanctuary for peace and quiet", hoping to draw all people to immerse themselves along with Mary, in the mysteries of the Passion, Cross and Resurrection of Jesus. The grotto is estimated to be complete in five months.
By Glenda Meekins of the Florida Catholic staff, November 09, 2022