APOPKA | As a myriad of vendors and performers from the northeast made their way to sunny Florida for the annual Ukrainian Festival at the Apopka Amphitheater, they received news that their homeland had been invaded by Russia. While they hoped for the best, they had to face a new reality.
Since then, daily calls to relatives are a priority for families thousands of miles away and gathering locally at St. Mary Protectress Ukrainian Catholic Church for prayers, support and to share the latest news.
Most of Tetyana Zvarychuk's family is in Ukraine. She has not seen them since she left 17 years ago, but she relies on her large Ukrainian community in Illinois where she lives. Her children were to participate as dancers in the festival Feb. 25-27. Instead, they joined in the festival-turned-rally and worshiped at St. Mary's for peace. "We are all Christian and we know that God will help us to stand up. Church gives us hope, faith, and calmness for our souls so we can pray for our people," she said.
Ivanna and Volodymyr Polusmak are parishioners. Volodymyr's parents and cousins are still in Ukraine as are much of Ivanna's family. They both attended evening prayer Feb. 25 shortly after the war broke out. "It is very hard to stay far from [Ukraine] and keep it at a distance – to not be capable to support. All we can do is communicate via social media and prayers… you get to the point where you realize there's nothing else. Prayers are the only thing you have left."
The Polusmaks advised their families in Ukraine to try and reach the European Union, but were told most of the bridges were broken. Volodymyr noted, "There is a lot of misinformation so it is very dangerous to get on the road at the moment." Despite the challenges, Ivanna said many of their female friends in the Ivano-Frankvisk Oblate, about two hours from the Polish border, have fled with their children, leaving husbands behind to fight.
Looking back, she said she was concerned it would come to this. "The people of Ukraine did not want to believe that we would be in this situation so a lot of them found themselves in a place of shock," she said. "They didn't expect this to happen. It changed the world for them. It is upside down. For us as well."
Just last summer the couple took their children, 11-year-old twins, a boy and a girl, and 9-year-old son, to visit family. They try to go every two years. "For them it is part of their life as well," Ivanna said. She paused trying to get the words out. "They came from school yesterday and had friends coming up to them providing support. We had to have this difficult conversation with them that we didn't think we would have with our kids." She said they will continue to teach their children about Ukraine, its difficult history, and the fight to remain independent.
"It's really hard to think that one day there might not be a Ukraine," she said, her voice breaking. "We are trying to show them how hard Ukrainians are fighting. You have to be strong and you have to be resilient. No matter what, if you know who you are and you fight until the end, with God's help, He will see it and will help us stop this bloodshed."
Much of their family has retreated to basements or nearby shelters. Others are seeking cover in Catholic churches.
With his own friends and some family in Ukraine, Father Roman Kuzminskyi understands the need for prayer and community for those concerned about family overseas. So, he is leaving his church in Apopka open during the day.
Father Kuzminskyi is from Ivano-Frankivsk, located in western Ukraine some 500 miles from Kyiv. Although his parents are in the United States, his childhood home is still in Ivano-Frankivsk. The day the war began his friends went to bunkers, but before they did, they snapped some photos of the view from his parent's house. Because his friends and relatives are in hiding, the priest does not have contact with them. "All I know is what I see on television and internet." Just as community members find comfort in one another, so does Father Kuzminskyi.
During the Sunday liturgy at St. Mary Protectress in Apopka Feb. 27, he offered thanks and praise for the many Americans and other non-Ukrainians who have come to lend support.
After Mass a "Moleben" or supplicatory prayer service "in honor of Christ the Lover of Mankind and the Most Holy Mother of God" was offered, asking for intercession in the war. Petitions to save the faithful followed, then praise to Our Lady calling her "Joy of all the afflicted, Patroness of the Persecuted… Consolation of those in exile…"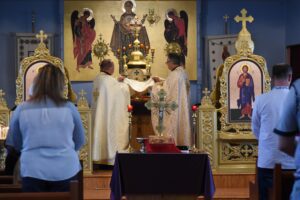 "One word can help," said Father Kuzminskyi. "If we don't have faith, we can do nothing. Just our faith, just our prayers can help now."
He then proceeded with a memorial for the priests, soldiers, and civilians who have died so far. Ukrainians have sung this prayer too often. Many participants had grandparents who fought the Nazis and parents who fought to maintain Ukraine's independence.
Anna Lebed drives an hour from Oviedo to participate in the celebration of Mass every Sunday with her husband and 4-year-old daughter. Her 70-year-old uncle is a doctor who volunteered to work near the front lines tending to wounded soldiers. He told Lebed, "I cannot stay at home. I want freedom for my grandkids."
Lebed planned to visit Ukraine this coming summer. "I still believe we can go because Ukraine will be free from Russian aggression," she said. "We will fight it. We are strong. We are brave."
When asked how faith strengthens her, she responded tearfully, "It is very helpful to be together with our community. We are heartbroken, but we are strong. We believe that Ukraine will be independent. Glory to Ukraine. Glory to freedom. God is with us and the truth is on our side."
If you are financially able, make a donation to your parish, marking your donation specifically for the Collection to Aid the Church in Central and Eastern Europe.
By Glenda Meekins of the Florida Catholic Staff, March 03, 2022