ORLANDO | The faithful of Polk, Osceola, and Seminole counties who feel called to serve can join three new St. Vincent de Paul conferences ready to love their neighbor as urged by God.
The three conferences launched over the past year are eager to continue ministering to those in need. Trace Trylko, St. Vincent de Paul executive director, credits the growth to supportive priests and "a desire for people to put their faith into action and grow in their spirituality through service."
Among those priests is Father Derek Saldanha, parochial administrator of St. Thomas Aquinas Parish in St. Cloud. He realized the parish thrift store was struggling. From his previous experience with St. Vincent de Paul, he knew there was a better way and entrusted key people to work with leadership of the society.
Their success led to the new conference which launched just under one year ago.
"Now I feel we are able to carry out the works of mercy in a meaningful way — by seeing Jesus in the people we serve and by growing in our own relationship with Jesus through the works of mercy," Father Saldanha said. "I am very happy and proud of our conference."
Dawn Grigsby serves as president of the society that includes 100-plus volunteers. She recalled its advent. "We were a great parish family in a great location, but we were not in the community. We weren't out there as an organized group."
Through prayer and with an estimated 30% of members under age 40, and 40% of the volunteers bilingual, they are now vibrant. Their works include providing for local thrift stores, aiding domestic violence victims, making home visits to those in need and more.
"Our St. Vincent de Paul conference is hitting the mark of meeting people where they are and fulfilling the need they have at that moment," Grigsby said. "So many people were sitting in the pew, hungry to serve. This ministry gave an outlet for us to really do Christ's work. It almost brings tears to my eyes that there is so much love — that Christ gives us that strength — and so many people were sitting there longing to be His hands and feet."
St. Anthony Parish in Lakeland became a conference in February 2021, as people were just emerging from pandemic seclusion. Richard Eva, its president, said when then-parochial administer Father Luis Salazar mentioned he would like a conference at the parish, many Vincentians who served up north signed up. Although the conference struggles when the snowbirds head home, Eva said they have made a difference taking over the church food pantry.
"It's a slow process," he said. St. Anthony has an older community with mostly elderly parishioners. "We do what we can, but people keep coming and showing up."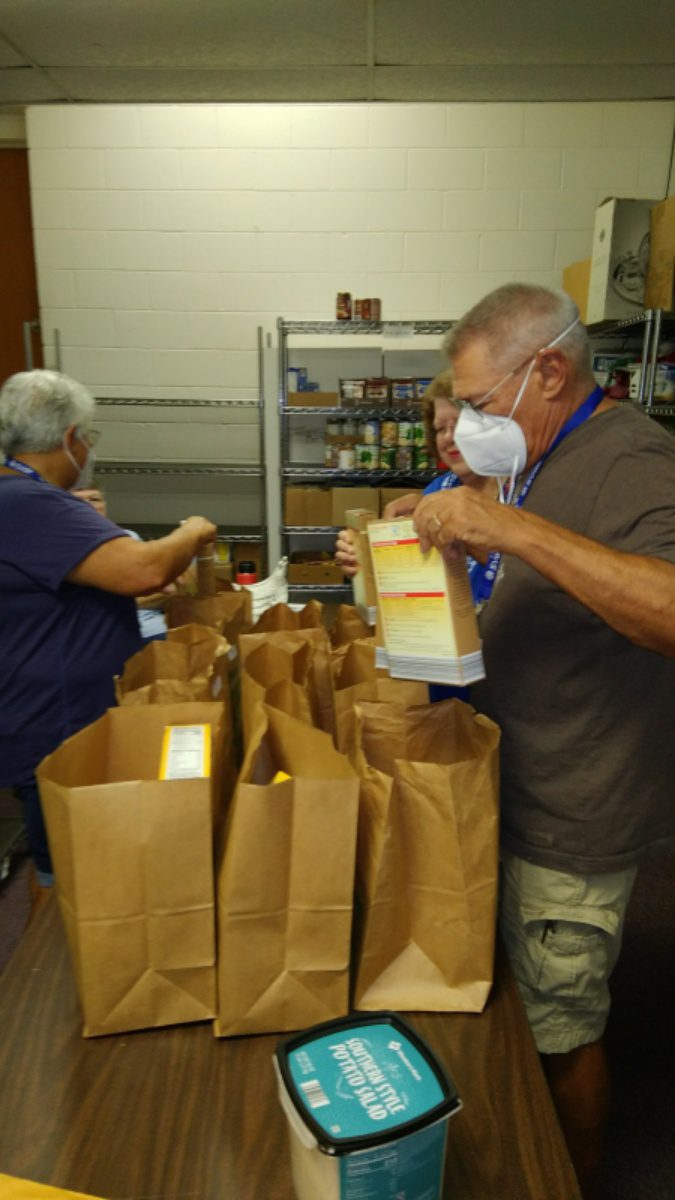 So far, they open their food bank during the week and every Saturday for two hours. They also take calls and direct those in need to other services in the area.
"I was a person always willing to give money. I was good at making money and shared that with those in need," Eva said. "But going to church and listening, I realized it's not just giving money. It's giving of yourself, so I did."
St. Stephen Parish in Winter Springs recently became a conference and will be up and running this month. Also encouraged by their pastor, Father John Giel, ministry coordinator Lisa Johannes gathered a core team. She said she likes working as part of St. Vincent de Paul because the organization is very inclusive.
Although evangelization is a piece of the puzzle, "You simply want to connect (those in need) with the faith and help everyone where they are," Johannes said. "The spirituality piece is huge because you can't form community without that. Friendship is part of building a community – then service follows." She explained the first 20 minutes of every meeting is spent in reflection of the Gospel. "That will lead to a strong community that will enable us to go out and help people where they are."
(St. Vincent de Paul Society is an independent association of the faithful (not a diocesan ministry) with permission from the bishop to serve in the Diocese of Orlando by partnering with parishes and Catholic Charities of Central Florida for the good of God's holy people.)
By Glenda Meekins of the Florida Catholic staff, August 10, 2022