MELBOURNE | Teens at Melbourne Central Catholic (MCC) are winning big with the new PIT (Peer Inclusion Team) Crew program. Students are paired up, and just like some NASCAR drivers, drafting off one another for success.
The goal of PIT Crew is to make sure all students make the grade and feel welcome, especially students with disabilities. Carol Guthrie, director of academic support, said it's part of the Peers as Partners in Learning program developed by the Florida Inclusive Network. Guthrie trained in Orlando and launched PIT at Bishop Moore Catholic High School last year.
When she moved to Melbourne and noticed no significant program for students with disabilities at MCC, she decided to jumpstart PIT on the coast.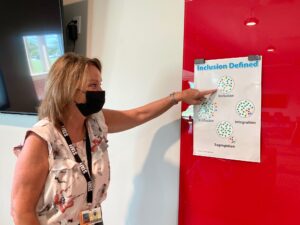 "God influences everything we do in a Catholic School," said Guthrie. "He calls us to love each other and treat each other with dignity and respect. We can do this by including students with disabilities in programs that offer them opportunities to learn grade-level curriculum together with their same age peers."
The program has been a vehicle to help teens better understand their peers. Student helpers also free up teachers when new friends start leaning on each other for help with assignments.
"We have one particular student who is doing pretty close to grade-level geometry now," said Guthrie. "Her PIT Crew member is blind to the fact she has any disabilities. She sets high expectations for her student and the work she is producing with that support is amazing."
Currently, 11 seniors participate in PIT. They'll focus on algebra and English until the program grows and then will tackle additional classes where students struggle next. Interested mentors submit applications and teacher recommendations. They need at least a 2.5 GPA, good attendance record, a good discipline and no behavioral issues.
"We are looking for students who are dedicated, reliable, dependable…and want to serve," Guthrie said.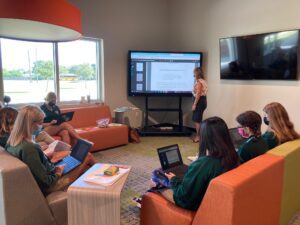 If they make the team, PIT members are trained in academic engagement, communication, social barriers, problem-solving, and other disability-related topics such as person-first language (putting a person before their diagnosis), presumed competence, and social justice for minority populations.
The program has not only supported students academically, but also helped the students grow in their faith. Skyy F., a senior participating as a PIT crew member, was eager to share her experience and how it has transformed her faith.
"This program has allowed me to grow and see how helping someone in such simple ways changes a person as whole," Skyy said. "My faith has grown exponentially since beginning this program. I have been able to see how truly God influences each person I coach… God has guided me by allowing me to see how I am able to greatly affect a person's life just by supporting and uplifting someone who may be struggling."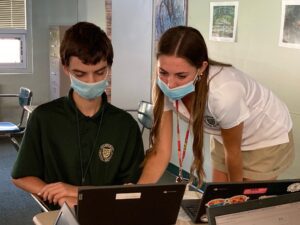 The program is also opening new roads to the future as well. One student already decided to major in special education because of the positive experiences. It's makes Guthrie beam with pride.
"MCC is one of only two schools in Brevard County offering the Peers as Partners in Learning elective that provides students enrolled with reciprocal academic and social benefits to students with disabilities and peers without disabilities," she explained.
By Lana Kaczmarek, Special to the Florida Catholic, November 17, 2021