OCALA | They're dedicated deputies and disciples of Jesus Christ who attend Blessed Trinity Parish in Ocala. When Taylor and Chris Rafferty married each other just four months ago, they chose to love thy neighbor as much as they love each other. They dropped everything while snapping wedding photos to serve and protect a total stranger.
The Raffertys work for the Marion County Sheriff's Office and nearly every single person in their wedding party was also in law enforcement. The group was posing on the square in Downtown Ocala before the ceremony, when a car slammed into a man nearby.
Bride, Taylor, describes the horrific moment, "The sound that you heard when he got hit… I thought he wasn't going to make it."
A friend, who is also a nurse, was speaking to the families and was first to bolt to the scene. The entire wedding party followed. "When we got around the corner, we saw the guy laying in the road. We immediately started helping him like we were in our uniforms," remembers Taylor. "It didn't matter that we were in our dresses."
The man was conscious and kept telling everyone he was in pain. The wedding party called for medics, calmed the man, and did everything they could to prevent him from getting hurt again.
In what has now become the most viral photo of her wedding day, Taylor can be seen directing traffic in her gown, one hand up in the air for drivers, the other clinging to her bouquet with a badge nestled in between the delicate flowers.
"That's my wife!" Chris says proudly. "That's who she is! That's what she does!"
Hair, makeup, perfect looks for her perfect day were not Taylor's top priorities. She's aware many brides spend thousands of dollars on dresses and details, but shared, "We're just not those kind of people… I wasn't worried about the little things because they didn't mean that much to me. The whole reason I was at the wedding was to marry Chris."
God's blessings continued at the hospital where doctors treated the man hit by a car. One of the Raffertys' guests was the trauma surgeon in the emergency room that day. He showed up a little late to the wedding, but assured the couple the man would live. Everyone breathed a sigh of relief, thinking it was a miracle the stranger would walk away from this accident.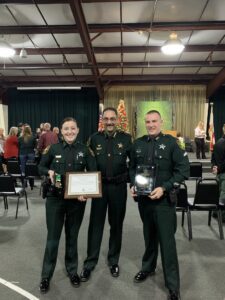 The Raffertys, both in their mid-20s, attended Catholic school and feel a strong commitment to serve others, even those they escort to jail. "We've been very fortunate in our lives and we just want to help others get connected with God," said Taylor. "A lot of people we have contact with as deputies hate everybody. It's not us. It's not God. They're just mad at the world because no one wants to get arrested, but we want to remind them this isn't the end. You just have to believe and have faith."
That commitment to the people of God is not lost on their boss, Marion County Sheriff Billy Woods. "I expect a lot from my deputies on duty, but they always seem to impress me with the great work that they do off duty too. It just shows their heart for the community," he said.
Admitting they started out "with a bang", when asked what they hope for the rest of their marriage, Taylor quickly chimed in, "Just happiness… there will always be health concerns and money concerns, but we've always said as long as we have each other we're good." And if it is God's will, they will happily welcome babies and raise them Catholic. Chris often jokes as they walk by Blessed Trinity Catholic School, they should just start paying tuition now because we're going to have so many kids. "It definitely shaped who we are, and we definitely want that for our children," echoed Taylor.
Jennifer Drow, Special to Florida Catholic Media – April 8, 2021