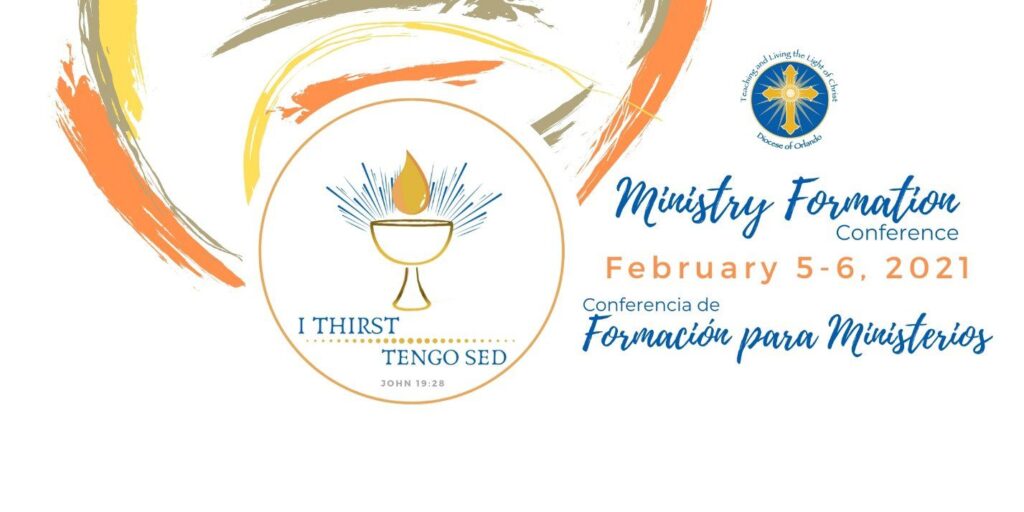 Welcome! We invite you to join us for this year's Ministry Formation Conference, I Thirst, on February 5 and 6. Come hear anew the call to taste God's love, to enjoy His goodness, and to find deep meaning as we follow in His footsteps.
We all thirst for God, and He too thirsts for us – that is why He sent His son to restore us as His children. But who is Jesus, and how should we respond to Him? Together, we will explore the mysteries of our Catholic faith with three amazing speakers: Br. Adam Neri, BH, Mother Adela Galindo, SCTJM, and Michelle and Asís Lopez. They will lead us with three reflections on the central message of Christianity: Who is Jesus? How does He quench our thirst for eternal life? How should we respond to Him?
When? I Thirst opens Friday, February 5, at 7:00pm – 8:15pm. Join Bishop Noonan live at St. James Cathedral or on Facebook and YouTube as he kicks off the conference. Hear from our chief catechist, evangelist, and missionary leader about the great mission that God has given us, and His great desire to be united to us in love.  Live virtual conference retreat and parish hosted in person cohorts will be held on Saturday, February 6, at 9:30am-1:00pm.
Where? Virtual or in person. You can join us on Zoom or in person at any of our satellite locations throughout the diocese. In-person and virtual options will include breakout groups to dive deep and reflect more.
Who can attend? Anyone! We welcome those involved in any form of ministry, anyone who wants to draw near to God, and all those people who feel called to ministry but aren't sure where to start (hint: you can start right here!).
How do I sign up? Click the link below to register. The cost is only $15. All talks will be available live in English, Spanish, Portuguese, and Haitian Creole.
---
Speakers
Br. Adam Neri
Brother Adam Neri, BH, calls the great state of New Jersey home. He loves hockey, family, good food, and movie theater butter popcorn with extra salt. Being one of eleven children, he never had a dull moment when living in the Garden state all through college and to the start of his professional career.
Br Adam attended Rutgers University in New Brunswick, NJ, where he earned degrees in English and Spanish, and a Master's Degree in Secondary Education. He also has a Master's Degree in Pastoral Ministry from the University of St Thomas in St Paul, MN. He taught high school for 2 years prior to joining religious life.
While traveling the world doing mission work, he encountered a group of radical and fun-loving religious brothers from the Brotherhood of Hope, and the desire was placed in his heart to do something great for God. July of 2005 he formally accepted that desire when he professed first vows with the Brotherhood of Hope. In July of 2010 he professed perpetual vows in the Brotherhood of Hope. Brother Adam's thirst for the Lord has carved a path for an adventurous life, taking him across the country and throughout the world seeking to serve and do great things for God.
Br Adam has had mission assignments as a campus minister at Rutgers University, Florida State University, and now as the director of Catholic Campus Ministry at the University of Central Florida in Orlando, FL.
Asis & Michelle Lopez
Asis & Michelle Lopez live in Miami, FL and have been married for 3 years with 3 children in heaven. Both experienced a deep conversion and gave their life to Christ as young adults before meeting each other. When God brought them together for marriage, they knew it was for a mission and it's been an adventure far beyond what was expected. They have a passion for Jesus and people. They enjoy hanging out with friends and playing games, especially basketball and anything competitive.
Asis was very involved in Crossfit and real estate before God called him to pursue a new career as a firefighter paramedic. Michelle currently serves as the director of evangelization and campus minister at St Augustine Church and Student Center at UM.
Mother Adela Galindo
Mother Adela Galindo was born in Leon, Nicaragua. Her childhood was marked by a profound Marian spirituality which has become more obvious and tangible as the years have passed. She considers the gift of the Blessed Mother's maternity in her life to be the most beautiful gift the Lord has given her. "My path is Marian…everything in my life has been a gift of Our Lady's Heart. My desire is to live and to die in the School of Mary's Heart".
During her youth, she became actively involved in the Charismatic Renewal, experiencing in a renewed manner the powerful effects of the union of two currents of spirituality, Marian and charismatic, which led her to a deep love for the Eucharistic Heart of Jesus.
In 1990, she founded the Religious Institute, "Servants of the Pierced Hearts of Jesus and Mary" in the Archdiocese of Miami, Florida.
The Sisters are totally dedicated to the mission of evangelization and formation, forming hearts in the splendor of the Magisterium and treasures of the Church, to be living  witnesses of the power and fecundity of love.  From the very beginnings of its foundation, the Institute has been actively serving St. John Paul II's call to the New Evangelization.  In their apostolic mission, they manifest the "All embracing motherhood of Our Lady and of the Church", serving in all areas of the life of the Church, having a multiform apostolic mission of evangelization and formation. Their Marian apostolic activity is born from a deep Eucharistic centered life and from a formation deeply rooted in the Magisterium of the Church, with a particular mission to keep alive and transmit the legacy of Saint John Paul II.