Embracing our Catholic values, we are steadfast in our commitment to foster Mental Health Awareness & Wellbeing within the Diocese of Orlando. Guided by our faith, we understand that mental health is an integral aspect of overall wellness. Through our compassionate initiatives and collaboration with Catholic Charities of Central Florida, we seek to provide a safe and understanding space for those facing mental health challenges. Our efforts include ministerial events, support groups, and resources that align with our belief in the intrinsic dignity of each individual. By shedding light on mental health matters, reducing stigma, and offering spiritual and emotional support, we strive to reflect Christ's love and compassion, enveloping our diocesan community in a sense of healing and unity.
| | |
| --- | --- |
| | The Association of Catholic Mental Health Ministers (CMHM) is a Lay Association of the Christian Faithful whose members are called to be a healing presence in the lives of people with mental illness and their families. Members of the CMHM see Christ in those who live with a mental illness. Members practice a ministry of service and presence; like the Good Samaritan (Luke 10:30-37), they do not look the other way or walk past those living with a mental illness but instead pour the oil and wine of the Gospel into their lives.  Members walk with people living with a mental illness to help them find the pastoral support and services that they need through their local Catholic community. |
| | The Sanctuary Course for Catholics was created to inspire and equip communities of faith that are seeking to become places where individuals living with mental health challenges feel safe, supported, and a sense of belonging. Developed in consultation with mental health professionals, theologians, and people with lived experience, this eight-session study guide explores key mental health topics and examines meaningful ways to offer companionship, support recovery, and promote wellbeing. This course and films address difficult and sensitive topics, and may not be appropriate for a young audience. It is not recommended for people ages 17 and younger. |
Suicide Prevention Awareness
 Parishes often serve as trusted support networks for individuals facing various challenges, including mental health issues and thoughts of suicide. By offering resources, parishes not only acknowledge the reality of these struggles but also provide a safe and compassionate space for individuals to seek help. These resources can educate clergy, staff, and parishioners on recognizing warning signs, offering support, and connecting those in need with professional assistance.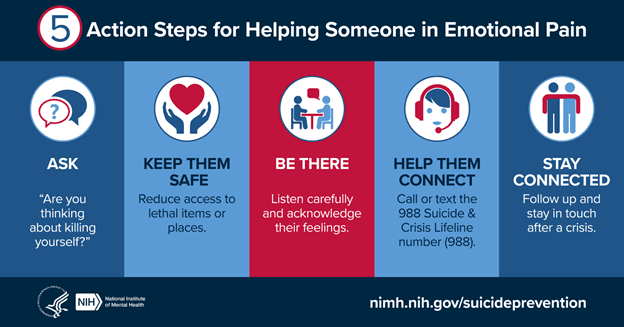 ---
Pastoral Resources for Mental Health Awareness & Wellbeing
Please contact our office for more information about pastoral resources and their implementation.